2019---03---27---Pigott-Stinson---Homepage_02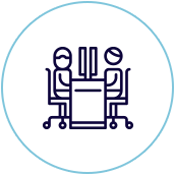 Workplace Relations & Industrial Law
With expertise in a broad range of industries, we are well placed to manage the employment and industrial issues unique to various specialised areas.
Our Workplace Relations & Industrial Law Practice Group adopts a multi-disciplinary approach and works closely with our Litigation & Dispute Resolution and Commercial Practice Groups to provide tailored solutions and advice.
We advise a broad range of clients on all employment, human resources, work health and safety (WHS) and industrial relations matters.
We provide expert advocacy in:
workplace disputes including claims commenced in the Fair Work Commission (including as unfair dismissal or adverse action claims);

claims commenced in any state based tribunal or Court (including breach of contract claims, post-employment restraint proceedings);

Discrimination claims.
We provide advice and advocacy in the aftermath of any workplace incident or accident to minimise the potential for regulators to prosecute and, if litigation commences as a result of a safety matter, we can defend prosecutions and appear in safety disputes and coronial inquests.
We can advise on workplace arrangements most suitable to the business and the type of workforce it is seeking to develop and can draft agreements to best fit those requirements (which may include employment contracts for fulltime, part-time or casual staff and/or agreements for independent contractors).
We provide training to directors, managers and staff on all employment compliance matters – including appropriate workplace behaviour, conducting investigations, managing ill and injured workers, performance management and safety matters such as incident management and incident responses.
We are able to conduct workplace investigations including into complex and sensitive matters in a way which will not undermine or jeopardise the employer's position. We can also provide assistance and guidance to employers to allow them to carry out their own investigations.
We also can advise on restructures, change management, the impact of business sales and transfers on employees as well as managing employee misconduct, illness, injury, terminations, unfair dismissal claims and adverse action claims.
We work closely with business owners, HR professionals, managers and in-house counsel to develop workplace practices which result in the effective and efficient engagement of workers right through to the careful management of the termination process. We also act for individual employees seeking advice on their employment contracts and conditions and matters relevant to their employment and/or termination from employment.
We work with business to develop and draft workplace policies aimed at minimising risks in the day-to-day operation of the business including on safe work practices and conduct in the workplace. We can help businesses to develop and implement a risk register and a safety management system appropriate for their workplace.