taxi-industry-transport-law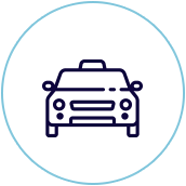 Specialist legal advice for the transport and taxi industries
Taxi and transport businesses have legal needs that don't arise in other business areas. They're specific to the transport and taxi industries.
With all the legal requirements imposed on your business, you'll need the right legal assistance to guide you.
Taxi and transport laws are complex. It can take years to understand all the intricacies and how to apply them. With more than 40 years' experience in point-to-point transport, we're trusted advisers to taxi businesses and organisations in New South Wales and throughout Australia.
We deliver outstanding service, and we've invested in succession planning for our legal team. Why? To meet the long-term needs of your transport business.
Our transport and taxi clients rely on us as their first choice of taxi industry lawyers in NSW and Australia.
Our taxi industry experience
There are plenty of taxi cases in which the findings have set new standards and become law in the NSW taxi industry. It's no coincidence that we've been involved in most of them.
It's proof that our specialist expertise is highly sought after by business, regulators and industry bodies.
Our expertise isn't limited to NSW. We've also advised peak industry bodies and networks throughout Australia as part of the recent regulatory reforms to the point-to-point transport industry.
How we can help your taxi business
We're skilled at providing specialist legal advice to our point-to-point transport clients including:
Safety
Chain of responsibility laws

Development of industry-specific safety management systems

Safety audits, investigations and prosecutions
Legislation and regulation
Regulatory issues

Competition and consumer law

Bailment and other relevant workplace arrangements

Development of network by-laws, constitutions and other operational rules
Business and operational
Business planning and development

Corporate governance

Disputes and disciplinary hearings

Sale and purchase of taxi plates
Advocacy
Providing training to service providers, their directors and officers

Training taxi operators in chain of responsibility obligations, safety matters, operational matters and governance
It's our mission to provide the most up-to-date knowledge with the best service to our taxi and transport clients.
We'll help your taxi business thrive
Find out more
Read on to find out more about our taxi and transport services.