The following Article is from Bruce Gotterson's regular article in Club Life
Our firm has just completed presenting the topic "Growth through Amalgamations and Mergers" at the recent round of Club Director Institute seminars held at various venues around NSW. We again thank Clubs NSW for this opportunity to present on this important topic.
Why are amalgamations relevant?
By way of an introduction to the seminars we posed the questions, "why is amalgamation important?" and, "how is this topic relevant to your club?"
We discussed that over the last few years the industry has seen an increase in the number of clubs seeking amalgamation partners. Whether this was as a result of natural structural correction or uncertain economic times or just the ever increasing cost of doing business is unclear. However, there is every reason to to expect that this trend will continue. Unfortunately, there have been a number of club closures in the recent past. Some of these have been inevitable, but no doubt some could have been avoided by earlier intervention. One of the key lessons for those in charge of clubs is to understand that seeking an amalgamation sooner rather than later increases the chances of a successful amalgamation.
So while amalgamations may not appear relevant now, understanding some of the issues that might lead to an amalgamation being considered, along with the processes involved, may prove helpful to your club in the future. This is  particularly important if your club is struggling or wants to expand its operations and seek growth through the amalgamation process.
The benefits of a successful amalgamation
The benefits of a successful amalgamation shouldn't be forgotten. There is the opportunity, when so many clubs face the risk of contracting by themselves, for both clubs to grow. That is, the growth is from the perspectives of both or all clubs in an amalgamation-the continuing club as it expands its number of licensed premises, membership numbers and net asset base and the dissolving club or clubs as it often provides an opportunity to upgrade and revitalise existing facilities not otherwise available.
How to amalgamate
We also discussed the different ways Clubs can amalgamate under the Registered Clubs Act with the usual option being where one club dissolves as a corporate entity ("the dissolving club") and the other club continues as the surviving club and corporate entity ("the continuing club")
The first step in an amalgamation
We discussed the first step in the amalgamation process which is the calling for Expressions of Interest. Clause 4 of the Registered Club Regulation provides as follows:
Calling for expressions of interest
(1)        If a registered club ("the proponent club") is seeking or proposing to amalgamate, the proponent club must, before entering into any agreement or understanding with another registered club about an amalgamation (regardless of where the premises of that other club are situated), call for expressions of interest in amalgamating from each other registered club that has premises within a radius of 50 kilometres of the premises of the proponent club.
(2)        The Director-General may give directions to registered clubs with respect to calling for expressions of interest under subclause (1) and a registered club must, in calling for expressions of interest, comply with any such direction given to the club.
One very important issue within Clause 4 is that before entering into any agreement or understanding with any club about an amalgamation, the club seeking an amalgamation must call for expressions of interest from clubs within a 50-kilometre radius. An "understanding" includes what would colloquially be described as doing something on a "nod and a wink". We stressed that because of these requirements clubs should seek advice before entering into discussions with another club as failing to do so could lead to a complaint and jeopardize an amalgamation.
We also discussed that even though virtually all of the expressions of interest to date have been from clubs seeking an amalgamation where they would be the dissolving club, there is nothing stopping a club seeking an expression of interest to amalgamate on the basis that it will be the surviving or continuing club.This is a trend I think we will see grow in the future.
I will write about some of the other issues discussed at the seminars in future columns.
For more information contact Bruce Gotterson on b.gotterson@pigott.com.au
Click on the image below to see the article as it appeared in Club Life September 2015.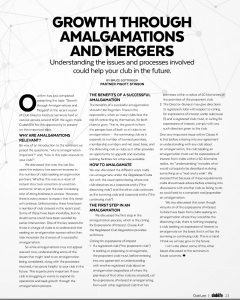 This article is intended to provide general information in summary form on a legal topic, current at the time of publication.  The contents do not constitute legal advice and should not be relied on as such. Formal legal advice should be sought in specific circumstances.