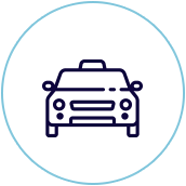 Pigott Stinson has been a trusted advisor to the Australian taxi industry for more than 40 years. Our current and former partners have acted on the majority of precedent-setting cases, which now form the common law that regulates the taxi and transport sectors. We have also advised peak industry bodies and networks throughout Australia as part of the recent, extensive regulatory reforms to the point to point transport industry.
Our long involvement in the taxi industry puts us in a unique position to provide advice to all participants in the provision of taxi and transport services.
We can assist taxi networks and service providers in the point to point transport industry by:
providing advice in relation to:

chain of responsibility laws, including the development of industry-specific safety management systems;

regulatory matters;

business planning and development;

competition and consumer law; and

corporate governance

providing assistance and advocacy with safety audits, investigations and prosecutions;

acting as an advocate in industry-wide negotiations with State and Federal governments, as well as the New South Wales Point to Point Commissioner;

representing industry bodies, taxi networks and taxi operators before the Fair Work Commission and in state-based industrial relations tribunals;

advising on all aspects of the law of bailment and other workplace arrangements relevant to the point to point transport industry;

advising on and developing network by-laws, constitutions and other rules for operation;

advising on member and stakeholder disputes and disciplinary hearings;

providing training to:

service providers, their directors and officers; and

taxi operators and their obligations with respect to chain of responsibility, safety matters, operational matters and governance.

advising and acting on the sale and purchase of taxi plates.
Pigott Stinson's Taxis and Transport practice group draws on a wealth of experience gained from acting for and advising a range of participants in the transport sector. Our broad range of practice areas enables us to adopt a multi-disciplinary approach in advising clients on all areas of the law that touch on the transport sector.