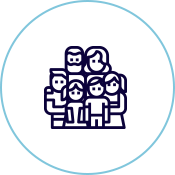 Navigating the complexities of family law disputes
Regardless of age or stage of life, the break-up of your marriage or relationship is a difficult and stressful time. Important decisions need to be made about children, finances and sometimes business or other commercial interests too. We can help you with straightforward advice about your entitlements and responsibilities, options and the costs involved, so that you can make informed choices about your future.
We offer end-to-end solutions for all family law matters
We know that realistic advice from the beginning and a clear path towards resolution may help save you time, reduce stress and trauma, and minimise your legal costs.
If other expert advice such as asset valuation, tax or other reports are needed, we work with experts to make sure you matter is dealt with the best way from the start. If your family law matter needs specialist commercial, property or Estate Planning advice, we have in-house expertise, on-hand.
We don't believe a "one size fits all" approach works for any issue where help from a lawyer is needed, least of all when it comes to arrangements for your children, and finances. When it comes to finding solutions, we work with you to deliver advice and tailor options for that meet your individual needs and budget. Talk to us today about how we can help you.
Specialist Family Law advice when you need it most
Whether you are looking to protect your financial position at the beginning of a relationship, trying to sort out a split of assets at the end, or needing help working out arrangements for your children, our Family Law Team offers specialist family law advice.
We can help you with:
Property and spouse maintenance
Divorce
Parenting arrangements
Child Support
Financial Agreements
Collaborative Law
Dispute resolution
Family Violence issues
Not sure where to start? Get in touch, and find out how our Family Law Team can help you.
Urgent matters
Knowing when to act can be just as important as what you do. When relationships break down, urgent steps may need to be taken to protect your property from being sold, or money being spent or sent overseas by your former spouse or partner, or you may have good reason to worry that your children might be taken overseas without your agreement.
If your family law matter needs urgent action, or help from the Courts to deal with urgent issues, our family law team has the expertise you need to get things back on track.